CRAWLING VALLEY CAMPGROUND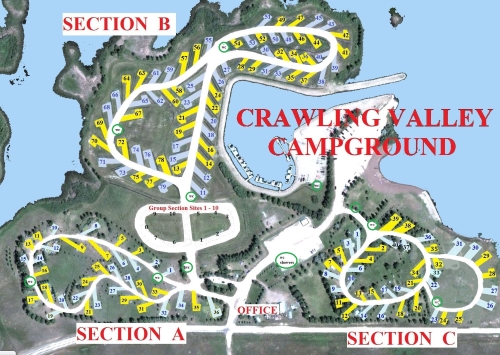 Crawling Valley Campground started in 1983 when a few visionary members of the Bassano Community created the Crawling Valley Recreation Society and with a provincial grant for Recreation in the Province, created the original Crawling Valley Campground. None of this could have happened without the support of the County of Newell No.4 (who leased the land from the EID) and the Eastern Irrigation District stake holders and the countless volunteers. These volunteers, built campsites, fire pits, tables, planted trees, etc.
In recent years the Crawling Valley Recreation Society have added a playground, shower building and shop to the existing office.
In the last 3 years the Eastern Irrigation District has instilled hundreds of thousands of dollars into a fabulous Marina and the renovation of 2 sections of the campground, adding power, underground sprinklers & trees for shelter belts and a beach was added to the campground.
Today the Crawling Valley Recreation Society board continue to work on your behalf to make Crawling Valley Campground the very best camping and fishing destination in South Eastern Alberta.