CRAWLING VALLEY CAMPGROUND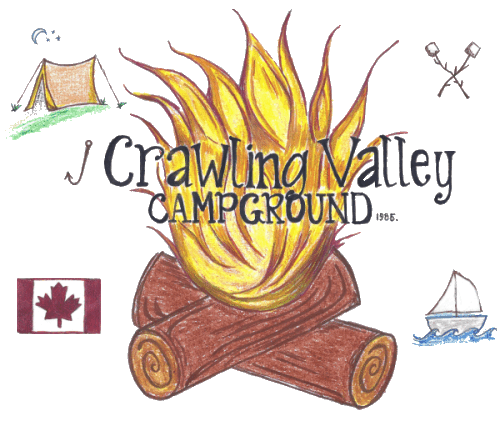 Crawling Valley Campground started in 1983 when a few visionary members of the Bassano Community created the Crawling Valley Recreation Society and with a provincial grant for Recreation in the Province, created the original Crawling Valley Campground. None of this could have happened without the support of the County of Newell No.4 (who leased the land from the EID) and the Eastern Irrigation District stake holders and the countless volunteers. These volunteers, built campsites, fire pits, tables, planted trees, etc.
In recent years the Crawling Valley Recreation Society have added a playground, shower building and shop to the existing office that was built when the campground was opened. 26 years ago.
The proceeds from the Crawling Valley Ice Fishing Derby, which is run by volunteers, go to projects in the campground. Last year a new fish cleaning building was built with the funds, this was opened for the fisherman this year (2011).
In the last 3 years the Eastern Irrigation District has instilled hundreds of thousands of dollars into a fabulous Marina and the renovation of 2 sections of the campground, adding power, underground sprinklers & trees for shelter belts. This spring a beach was added to the campground.
Today the Crawling Valley Recreation Society board continue to work on your behalf to make Crawling Valley Campground the very best camping and fishing destination in South Eastern Alberta.
Crawling Valley 2014 Fishing Derby
CRAWLING VALLEY ICE FISHING DERBY
Catch & Release Only
February 22 & 23, 2014
Event held by Crawling Valley Recreational Society
Competitive Fishing Event License # CFE 0564
For Information Call: Gordon Bloye (403) 641-2422 or 362-1767
READ MORE...

2013 CRAWLING VALLEY ICE FISHING DERBY THANK YOU

The orgainzers of the 11th Annual Crawling Valley Ice Fishing Derby would like to thank the Lassiter Brothers & Triple XXX Red Angus for their continued sponsorship of the Junior Event. A big thank you goes out to Fish & Wildlife, Brooks Branch for the Educational Spoon Hooks & the Fishing Rods for the Junior participants.

We would also like to thank all our Prize donors as follows:
Agcom Petroleum, A.T.B. Financial Bassano Agency, Bassano Automotive/Gibeau Repair, Bassano Building Centre, Bassano Pharmacy, Chinook Credit Union Bassano Branch, Crawling Valley Recreation Society, Creaky Floor Hardware Store, Desert Sales Inc., Evergreen Equipment Ltd., Imperial Hunter Hotel, Marken Machining Ltd., Maverick Inspections Ltd., New West Milling, Mike & Tracy Anderson of One Cow Ranch, Spin Doctor Power Tongs, The Fishin' Hole, The Hair Factory. Thank you to Wayne & Rose Pask for your help on Sunday.

Finally we would like to thank Dennis Wallace of Bassano Vac Services for the use of his lavatory service.